Orders ship in 7-10 business days. | Free shipping Available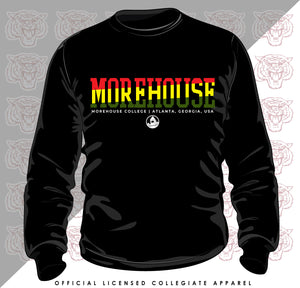 MOREHOUSE | 1892 Selassie RASTA Colors Unisex Sweatshirt (z)
collegiateluxe
The
Selassie
Family has been a part of HBCU. 
Emperor Haile Selassie
I of Ethiopia was awarded an honorary law
degree
in 1954 by Howard University and has been a significant contributor to HBCUs..
Since 2000, Collegiate Luxe has been a mainstay of HBCU Made. Almost everything has changed since then. However, one thing that remains unchanged is how C|L pursues its goals by paying attention to the tiniest details.
Sweatshirt, crew neck tee
design graphic print with logo and lettering
#TIGERS #CollegiateLUXE.
We are really passionate about
bringing memories to those who graduated from HBCU.
We believe that the right gear is essential when you want to make a statement on game day! Our Classic designs with Primary Logo tees will show them all who the #1 fan is any time you rock it!