Orders ship in 7-10 business days. | Free shipping Available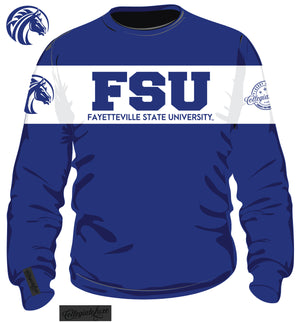 Fayetteville State | - 2 TONE ( Chenille & Embroidery ) UNISEX SWEATSHIRT (z)
collegiateluxe
Since 2000, Collegiate Luxe has been a mainstay of HBCU Made. Almost everything has changed since then. However, one thing that remains unchanged is how C|L pursues its goals by paying attention to the tiniest details.
-
ROYAL BLUE & WHITE

 Sweatshirt, crew neck 
contrasting 
Chenille, Felt and 
Embroidery Lettering / Logo with Sleeve Print.
 -
OVER SIZE FIT /  Size down for Regular fit
We are really passionate about
bringing memories to those who graduated from HBCU.
We believe that the right gear is essential when you want to make a statement on game day! Our Classic designs with Primary Logo tees will show them all who the #1 fan is any time you rock it!