Orders ship in 7-10 business days. | Free shipping Available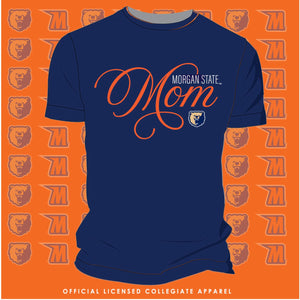 Morgan State | FANCY MOM Navy Unisex Tees -Z-
collegiateluxe
Soft Ladies Tees by Nextlevel Apparel ... "The perfect Fit "
" Mom We Couldn't Have Made it Without You! " #MorganBEAR #CollegiateLUXE. 
•70% Cotton, 25% Polyester, 5% Spandex
•Crew neck
•tshirt
•Front graphic reads "MOM"
•Machine wash
•Package: 1 x LTS
We are really passionate about
bringing memories to those who graduated from HBCU.
We believe that the right gear is essential when you want to make a statement on game day! Our Classic designs with Primary Logo tees will show them all who the #1 fan is any time you rock it!